With a unified product suite, SYSPRO provides a unique combination of robust, scalable solutions that ensure minimal risk and a high return on investment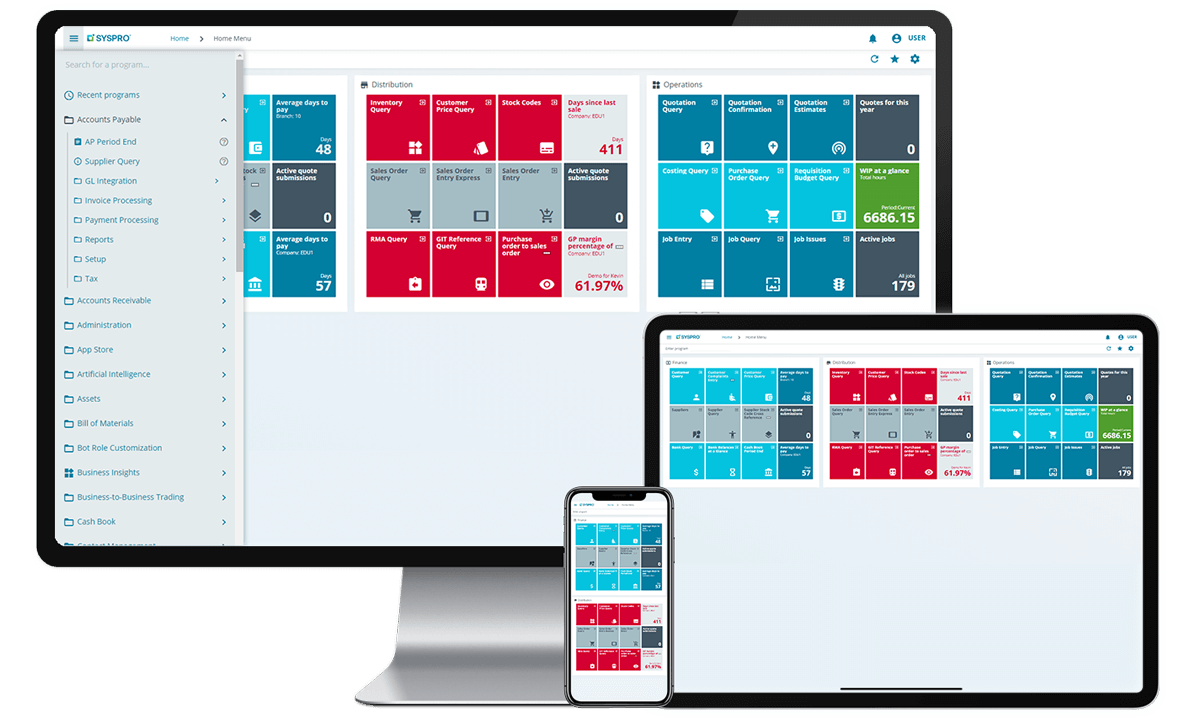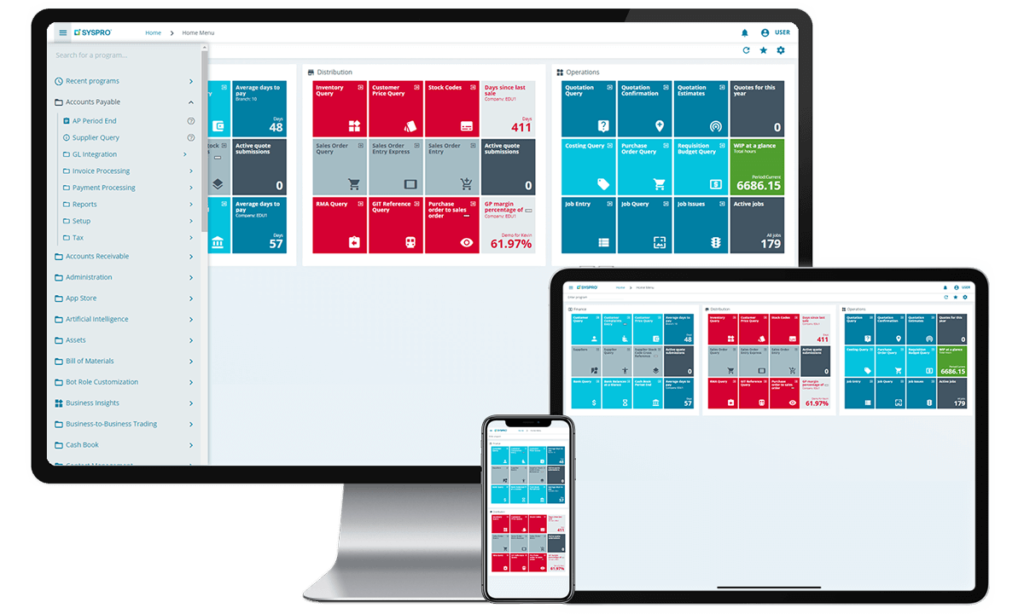 Your ERP Experience, Your Way.
Your ERP Experience, Your Way.
An ERP system is an integral part of operations, however, as no two businesses are alike when it comes to business systems, clearly one-size does not fit-all.
In many instances, it's the operational differences within an organization that determines their distinct competitive advantage. An ERP software that fails to take the needs of end users into account is unlikely to be rapidly adopted and could lead to frustrations within your organization.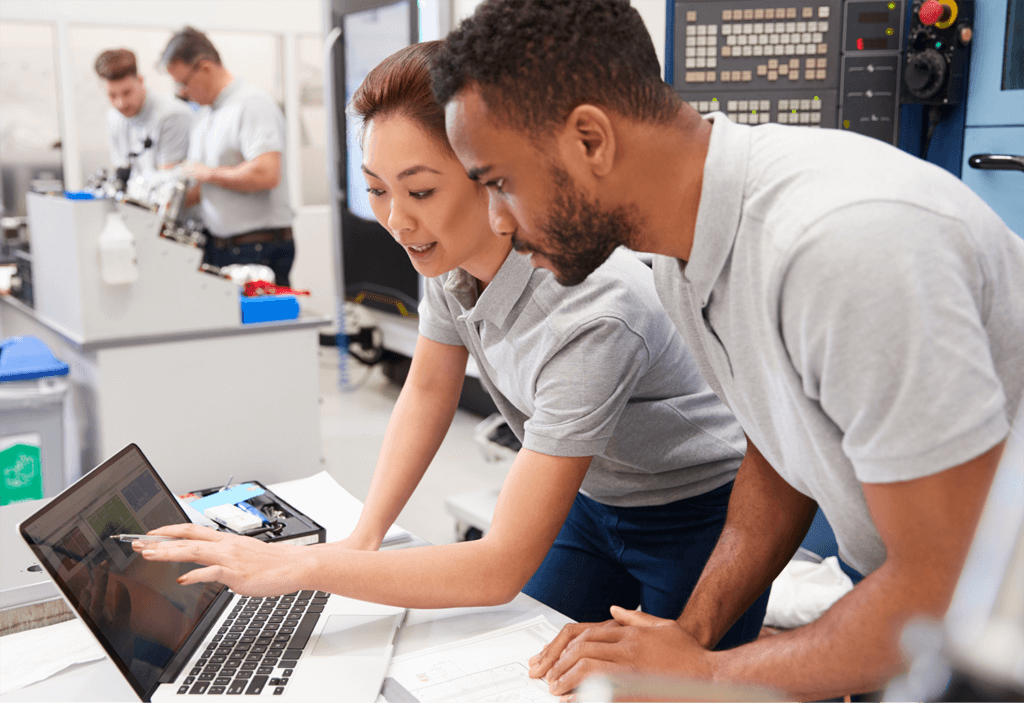 Personalize Your Workspace
At SYSPRO, we believe in allowing people the ability to configure the software to best suit their needs rather than the system dictating how a business should be run.
This is why SYSPRO has provided a solution that:
Encompasses industry-specific solutions
Provides you with the ability to tailor your system to suit your unique business requirements
Allows users to personalize their workstations to meet their individual role and needs.
SYSPRO ERP, Personally Yours.
Personalize Your Workspace
SYSPRO ERP is relevant to, and adapts to, every user within your organization – providing you with the flexibility to personalize your workspace, without the need for programming skills.
Users have access to a single, customizable and personalized workspace within SYSPRO. It is intuitive and easy-to-use, providing you with a simplified, engaging and rewarding experience.
Accelerate user uptake with a system that is personalized, engaging and easy to use
Provide your workforce with all the relevant, and individualized information and tools they need in order to operate in their environment and to perform in their particular role
Improve decision making, efficiency and productivity by empowering users with actionable business insights
Eliminate the need for individual customization by empowering users to design their own workspaces.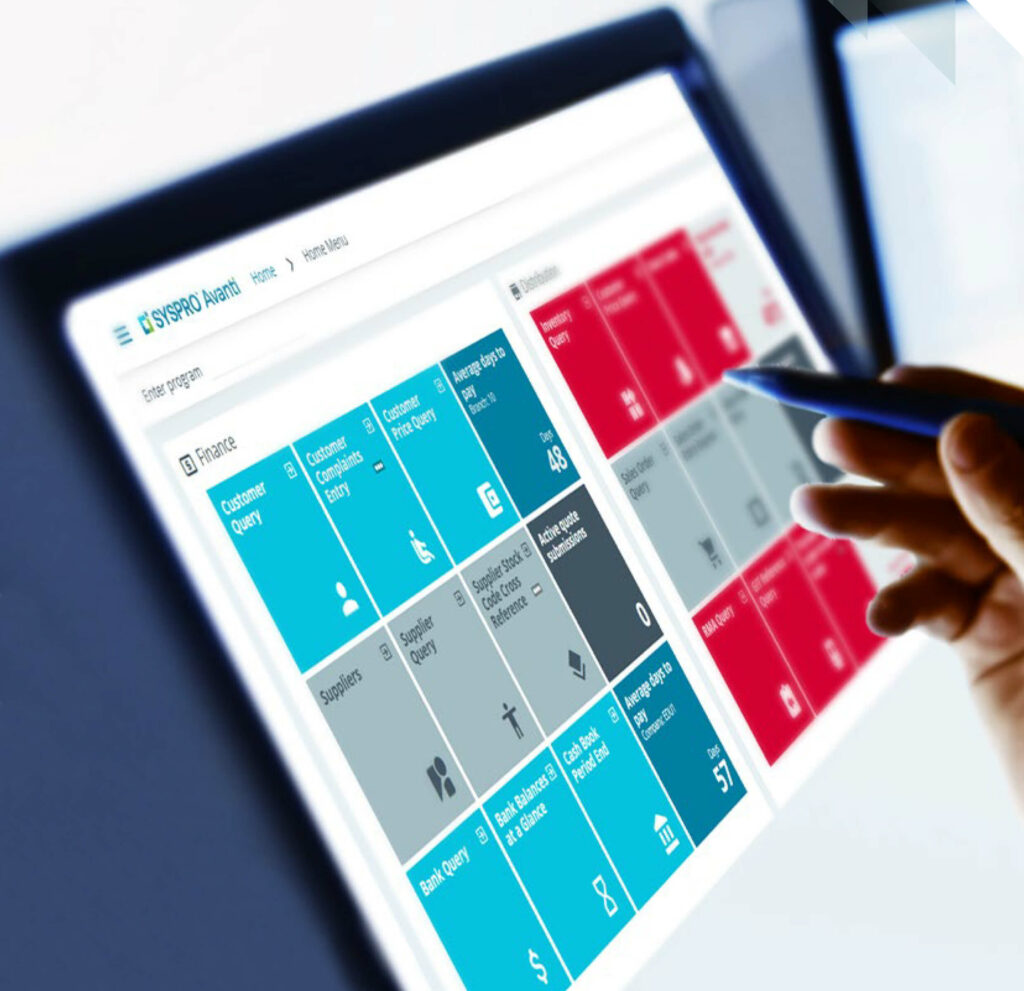 Role-based Workspaces in SYSPRO Avanti provides users with the complete tools and information needed to perform their role efficiently and effectively, displaying information most relevant to a user's touch points, with actionable insights being only one click away – for example profit margins against targets, backorder information, credit management, order fulfilment rates or inventory stock outs.
Adaptable ERP Web Interface
The Avanti Web Interface is designed to adapt and change as requirements evolve, giving users the complete freedom to view required information within any SYSPRO application without requiring development. Administrators can change the layout of any application, add or remove functionality, create new functionality or carry over current SYSPRO Customization into the web interface.
Individualized and Pre-defined KPI's
Business Insights in SYSPRO surfaces real-time insights and KPI's, all of which are personalized, pre-defined and automatically promoted to your users, alerting them to take immediate action. This allows your users to make proactive business decisions and act instantly – helping increase responsiveness, lead times and overall productivity.
Harmony (Social ERP), a user-friendly social media-type platform at the core of SYSPRO, provides a personal interface on which to instantly communicate and conduct daily business. It offers the equivalent of a newsfeed or notifications, surfacing real-time information and trends that the user chooses to 'follow' and24/7 access to the people and the information that's relevant and critical to your role and tasks.
Users are empowered with recommended actions, using Artificial Intelligence and Machine Learning, directly to the user interface – improving decision making, efficiency and productivity. Predictive search capabilities help you effortlessly get to the information you need by filtering the top records in the database based on what you have already typed.
Using leading HTML technology, SYSPRO Webviews provides simplified, uncluttered and easy to read screens, providing a single-view of records such as customers, suppliers, partners and prospects in customizable dashboards for targeted team or individual actions. By using the Visual Designer, you can tailor and personalize your user SYSPRO interface to meet your preferences and so that it is meaningful and relevant to you.
Tailoring Your SYSPRO ERP Solution
SYSPRO enables you to tailor and configure the system to better suit your individual business needs and streamline your particular business processes. It can be as simple as rearranging fields on a form to building complete applications to automate business processes whilst applying company rules.
Extend the SYSPRO capabilities set and integrate bespoke solutions, external applications and disparate systems
Streamline the implementation of company-specific standards and processes through system-wide personalization
Protect your business processes (and your data) with security settings
Easily modify the look and feel of any SYSPRO application, without the need for specialist development skills.
Scalability to Manage Growth
When your business grows, your ERP system should be able to grow and scale with you. Whether your business growth demands high-transaction volumes or transactional elasticity, SYSPRO's proven and robust technologies and platforms on which our solution is built provides the agility and scalability to continually adapt to your needs simply and cost-effectively.
Remain agile and expand and adapt simply, quickly and cost effectively with minimum downtime
Easily expand your ERP ecosystem to include new processes or departments
Extend beyond the enterprise to allow trusted customers and suppliers the ability to link to your own systems for better order and delivery performance
Process more transactions, faster with enterprise-strength and performance
Optimize productivity across the organization with increased system performance, throughput, speed and capacity.
Lets work together to create positive change in your business
Get in touch to find out how SYSPRO can assist you and your business today