Business Growth Management
Scale your business with SYSPRO ERP
SYSPRO ERP provides last-mile, industry-specific functionality for manufacturers and distributors
Maybe you've expanded beyond your original product line to diversify your business. Perhaps you've undergone a merger, or you're considering one. You may be at a point where your sales demand has increased, you've outgrown your current facilities, or you're opening new warehouses to expand your market reach. Business growth is great, but it can come with growing pains as you face the challenge of scaling your business.
With SYSPRO ERP, Business Growth Management is made obtainable with an industry-built technology infrastructure that is flexible, agile and scalable enough to continually adapt to your needs simply, cost-effectively and with minimum disruption to your workflow
SYSPRO ERP benefits for business growth management
Remain agile and expand and adapt simply, quickly and cost effectively with minimum downtime
Easily expand your ERP ecosystem to include new processes or departments
Extend beyond the enterprise to allow trusted customers and suppliers the ability to link to your own systems for better order and delivery performance
Process more transactions, faster with enterprise-strength and performance
Optimize productivity across the organization with increased system performance, throughput, speed and capacity
Business Growth Management Strategy
3 steps to smart growth with SYSPRO ERP software
Move to one unified system
You may have outgrown your entry-level accounting software and spreadsheets. Or, if you're larger, you may have disparate data and technology sources that inhibit your ability to get a single accurate (and fast!) version of the truth. If you're dealing with multiple divisions or companies working with different databases or systems, it can be really painful.
SYSPRO can help you bring all of these distinct databases and systems into a single, unified ERP platform, giving you real-time access to information from anywhere, using any device. This improves efficiency, collaboration and sometimes most importantly – accuracy. Plus, SYSPRO is highly scalable and customizable. Select only the modules you need now to succeed, knowing you can expand later as your business grows.
Cut through complexity and transform your operations
As companies grow, they can often adopt increasingly complex and often redundant business processes. Moving to a new ERP system can help you identify and cut through the extra steps and eliminate waste. Often companies move to update their ERP systems as part of operational transformation initiatives, such as a desire to implement Lean manufacturing.
Moreover, business growth may also enable you to modernize your inventory, warehouse and supply chain operations to achieve significant efficiencies. By leverage new technologies like workflow automation, GPS, mobile and Electronic Data Interchange (EDI), you can speed up routine tasks and enable your staff to work smarter than ever. Then invest the profits you gain into supporting even more growth.
Enhance transparency and get closer to customers
Happy customers can become the motivators of growth, but if you aren't prepared, that growth can drive a decrease in customer satisfaction. That means you need to make business decisions based on a solid, data-driven understanding of your customer demand patterns.
SYSPRO ERP software includes business analytics capabilities, which help you predict and make better choices. Identify market needs to support R&D and product development, respond to seasonality and customer preferences – and avoid stocking losers that lock up your capital sitting on the shelf.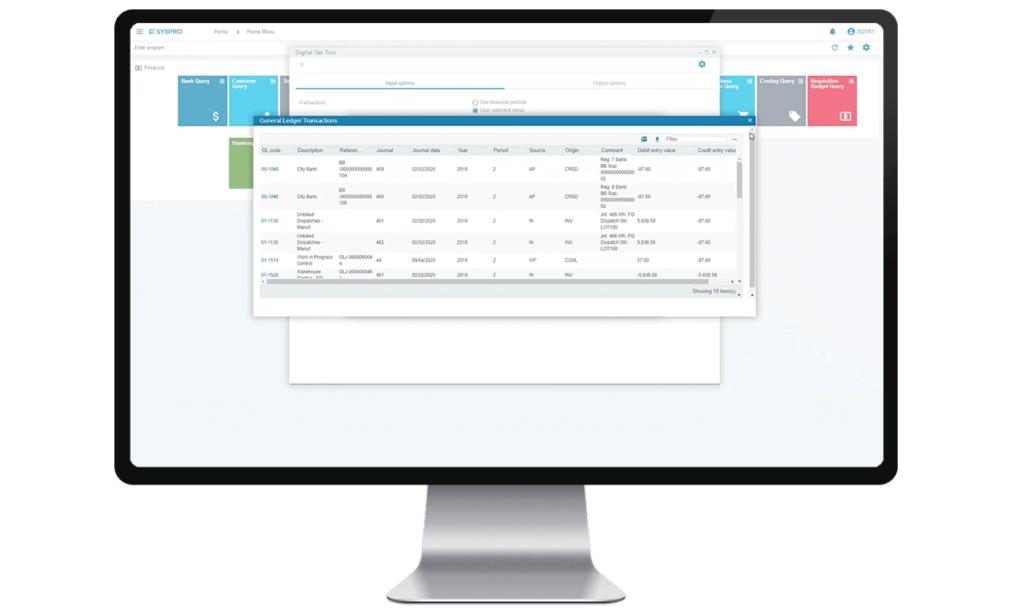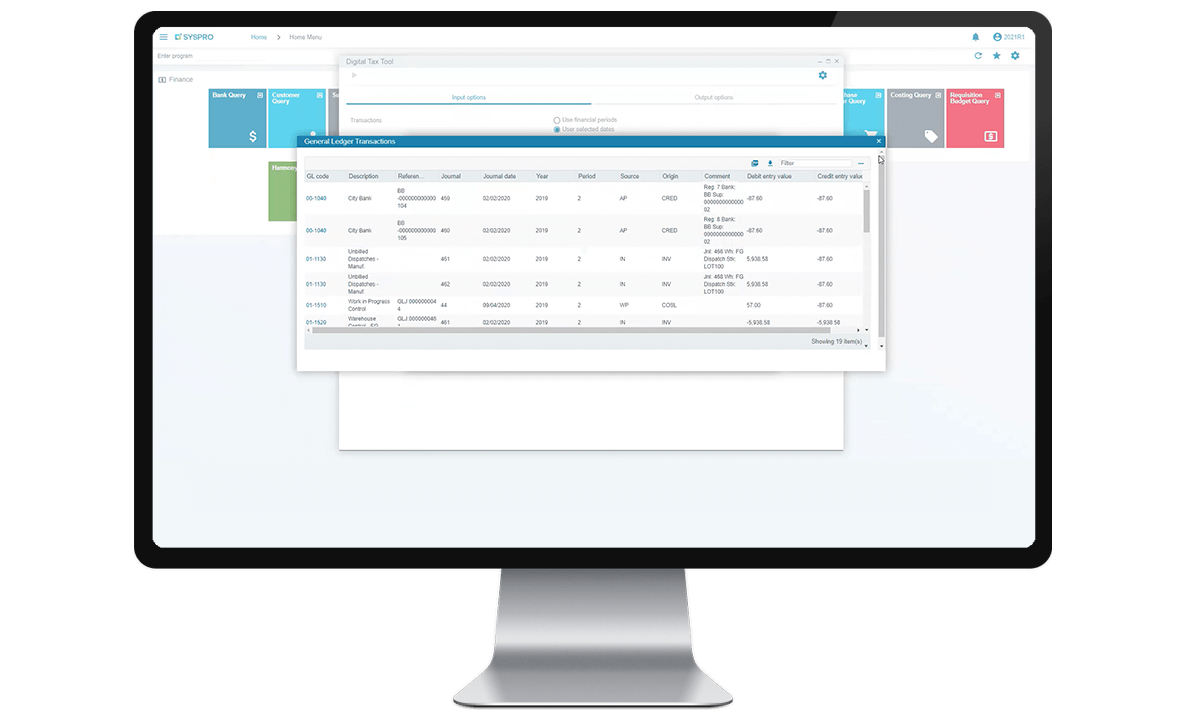 Managing growth - The value of ERP
SYSPRO ERP solution overview
SYSPRO is a highly scalable, industry-built ERP software solution that can be deployed in the cloud or on-premise and accessed via the web on any device. Integrated with the latest innovative technologies, SYSPRO ERP paves the way to digitalizing your business, streamlining your supply chain, and providing greater control and visibility, while simplifying and personalizing the user experience.
Solve your Industry needs
Get resources and insights into your industry and how our technology can enable you to digitally transform your business and secure a digital future.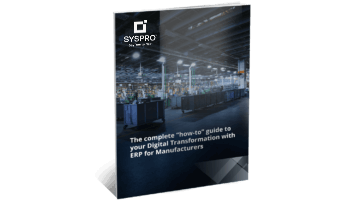 Embed digitalization, automation and 'smart' connected networks into every part of your manufacturing operations with SYSPRO ERP and unleash the power of industry 4.0.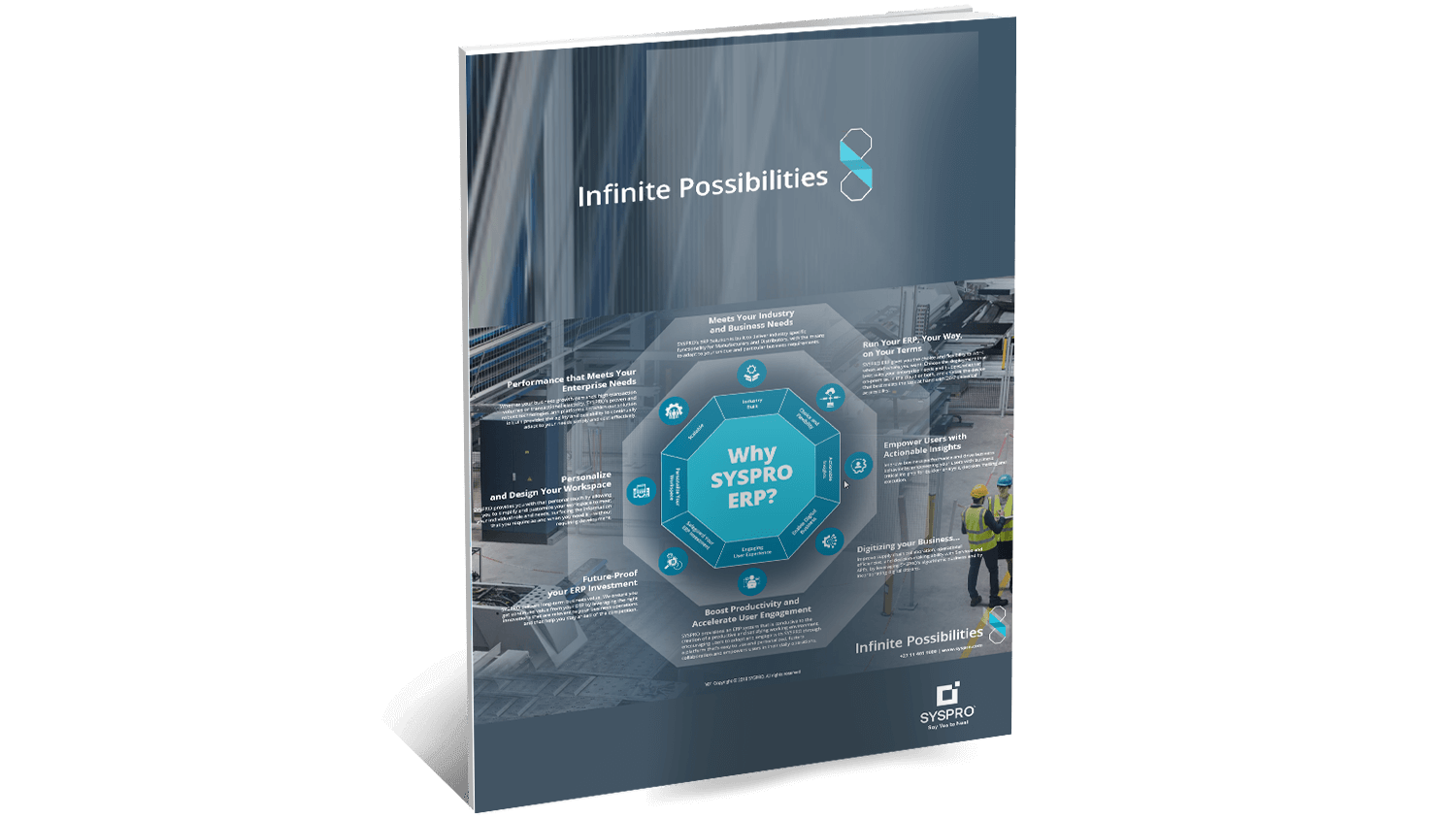 SYSPRO ERP is functionally-rich software that provide capabilities to manage and support business processes, in manufacturing and distribution companies. The solution is aligned with industry trends to leverage emerging technologies.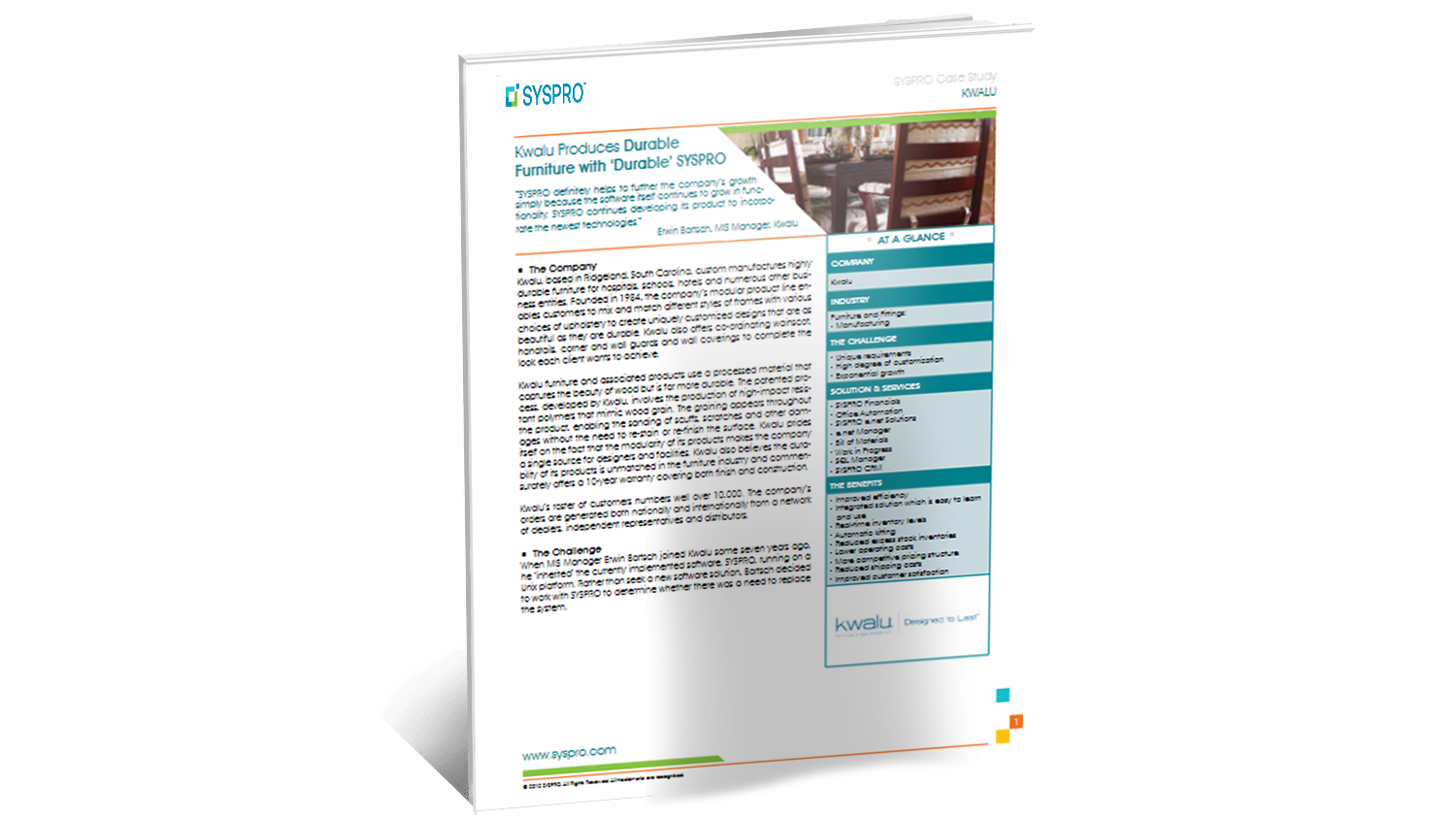 "SYSPRO definitely helps to further the company's growth simply because the software itself continues to grow in functionality. SYSPRO continues developing its product to incorporate the newest technologies."
– Erwin Bartsch, MIS Manager, Kwalu
Lets work together to create positive change in your business
Get in touch to find out how SYSPRO can assist you and your business today