Plan, execute and control production in high- and low-variance with SYSPRO ERP
Best-in-Class Discrete Manufacturing ERP
In discrete manufacturing, managing your supply chain is mission critical. You need to orchestrate the flow of parts and components around the world with fine-tuned precision, and make smart choices that keep your costs low and delivery smooth.
Discover how you can simplify operational complexity, reduce errors and speed time to market by aligning and connecting your product development, supply chain, factory and logistics operations with one unified business software platform, specifically aligned to the needs of discrete manufacturers.
SYSPRO Enterprise Resource Planning (ERP) software provides a comprehensive set of tools to help you plan, execute and control production in high- and low-variance, as well as changing volume environments.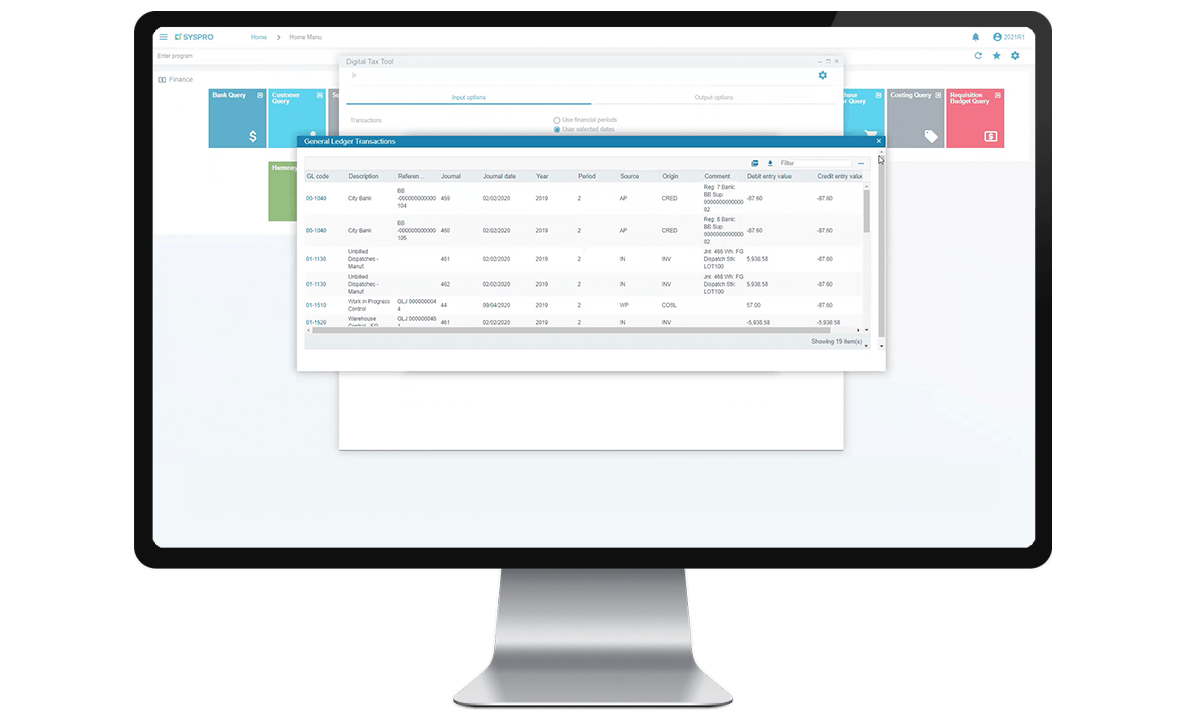 SYSPRO ERP validated by industry analysts
Don't take our word for it: SYSPRO ERP for Manufacturing has been certified by the Technology Evaluation Centers (TEC), an independent third-party analyst firm which helps private- and public-sector organizations choose the best enterprise software solutions for their unique business needs – quickly, impartially and cost-effectively. Visit our Resource Hub for more details.
Discrete Manufacturing Software
Streamline your discrete manufacturing operations with SYSPRO ERP.
Control product design changes
Constant innovation is one of the key factors to remaining competitive, and on-going research and development to formulate new and better products is integral to the industry. SYSPRO ERP provides robust Engineering Change Control and Bill of Materials capabilities ideal in discrete manufacturing environments.
Ensure quality of raw materials during the production process
Raw materials and manufactured products often vary in grade and quality so for many discrete manufacturers, tracking and control is essential to reduce waste, scrap and defects. SYSPRO enables you to implement continuous improvement by helping you to identify problems and points of waste as they occur, so you can work to eliminate them.
Balance inventory investment with customer service
Keeping adequate stock while continuing to offer superior customer service means understanding the balance of supply and demand, and maintaining the right product mix. SYSPRO ERP for discrete manufacturing gives you visibility so you can order just what you need.
Identify and respond to seasonal demand patterns
SYSPRO's forecasting solution gives you the tools to help you forecast future demand based on seasonal, cyclical and trend demand patterns in your sales history and lost-sales data, thereby enabling you to plan your production and purchasing to meet these requirements.
Manage component requirements
SYSPRO ERP enables the time-phased planning and execution of both dependent and independent component replenishment, as well as the efficient management of component issues to production. Use SYSPRO's Bill of Materials capability to improve planning and cost forecasting.
Minimize forecasting errors
In discrete environments where materials and product replenishment planning is often based on demand forecasts, you need to trust the accuracy of your data. Getting forecasts wrong can be expensive, with redundant stock on the shelf and fulfillment delays. SYSPRO ERP enables you to predict demand and manage your supply chain accordingly.
One of the key contributors to maintaining competitive advantage in the global market is your ability to deliver quality products to customers faster than your competitors – or at a minimum when promised – and deliver them within your budget constraints. SYSPRO ERP helps you analyze lead time constituents and non-value-add activities, from order taking to delivery, so you can identify and eliminate waste.
Synchronize supply with customer demand
For component and material suppliers of original equipment manufacturers (OEM), synchronizing supply with customer demand is particularly important to prevent costly line stoppages in assembly plants. Discrete manufacturers rely on SYSPRO ERP to help them not only automate order processing and other activities along the supply chain, but also execute production plans using lean manufacturing principles.
Lets work together to create positive change in your business
Get in touch to find out how SYSPRO can assist you and your business today