Return on investment (ROI) is often cited in relationship to ERP but not so often achieved.  It doesn't matter whether you are selecting a new ERP system, are part way through an ERP implementation or living with ERP – reviewing ROI is the best way to ensure ERP adds value to your business. 
Step 1 – start with the opportunities
Quantify where you think you can achieve a return on investment.
Which areas of your business cause you the most pain, how much money would you save by eliminating that pain?
Where do you think you could add value, new processes which would provide increased opportunities in your market, be a service your customer would be willing to pay extra for?  How much additional margin would this generate for your business?
Talk to your ERP vendor, where have their other customers achieved a return on investment?  What stands out to them as obvious pain or gain areas in your business?
Look out as well as in, could you alleviate pain in the supply chain, e.g. by automation or integration?  Would this translate into supplier price reductions or customer price increases?
Step 2 – prioritize the returns
Once you understand the size of the potential returns you need to prioritize.  Recognize that you can't do everything all at once.  Classify the list in terms of importance (size of potential return) and difficulty.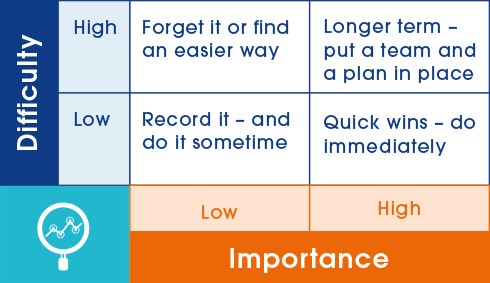 Step 3 – plan and deliver
Form a project team to deliver the benefits.  Identify the key "seeker of value" in your business – the individual with the right personality (communicator, negotiator, champion, analytical) to lead the team.  Then make sure you have the experts you need in each of the identified areas of return.
List the objectives that the project needs to deliver and make those objectives SMART (specific, measurable, attainable, relevant, time-bound).
Put a realistic plan together, making sure you don't overestimate the time this team has to implement the changes, or underestimate the time the activities will take.
Support  the plan from the top, create a senior steering committee to monitor the progress of the plan, make the ROI plan a central theme in the running of your business.
Step 4 – celebrate success and identify more
Now measure your success against the original objectives.  How much return on investment has been realized?  How much more could you have realized?  What needs to be done to capture the residual value?
Reward those involved in generating the return on investment and make sure they get the recognition in the business they deserve.  Ensure all employees in the business know what has been achieved.  Share the measures, show off to stakeholders: employees, customers, suppliers, your industry how much return on investment you have achieved.
Plan the next steps, go back to the original priority list, are there items in the 'do it sometime' list that you could do now?  How much value would that realize?  Go back to step 1 – how much has your business changed since you last reviewed your processes vs. your ERP system?  Seek out the new opportunities for return on investment that this divergence creates.
In summary, to achieve return on investment, follow these simple four steps……and repeat.
       Identify ROI opportunities
       Prioritize returns
       Plan and Deliver
       Measure, celebrate and start again