How many hours a day do your employees actually spend working, and how productive and accurate are they? How much time goes towards warming up, servicing, fixing or cleaning your crucial equipment?
The average labour effectiveness of factory employees is only 40 percent. To be considered world class, this figure should be at least 75 percent. Overall equipment effectiveness is only 60 percent, to be world class this should be 25 percent higher.
People and machines are vital to any business, and so is productivity, quality and reliability. Success means being able to measure and improve the quality of your products and increase your productivity and output, whilst reducing costs.
If this doesn't sound like your business, don't fret.  You should consider a manufacturing execution system (MES) integrated with your ERP that is able to help you respond to market demands without increasing costs and waste, or sacrificing efficiency.
What You Should Expect from Your MES
To improve your operations, you must be able to measure them. SYSPRO's Manufacturing Operations Management (MOM), for example, provides key performance indicators, metrics and means of measurement, captures data via a workbench and analyses it in real time, so you know how well your people and machines are working.
To increase productivity, you need to quantify and minimise losses, providing tangible value. You should look for a solution that helps you do this by aggregating loss from each employee and equipment at factory level, so you can implement countermeasures.
To optimise your operations, you must improve workflow. MOM does this by quickly and accurately scheduling operations; publishing schedules and job lists; collecting data from the shop floor from people and machines; tracking employees, equipment and jobs in real time; accessing analytics for labour, equipment and total performance; and driving continuous improvement.
Connecting your machines and accessing data are key to streamlining and future-proofing your business. MOM embeds interactive technology so you can gain real-time insight into any stage of the manufacturing process, including operation and machine status and performance issues.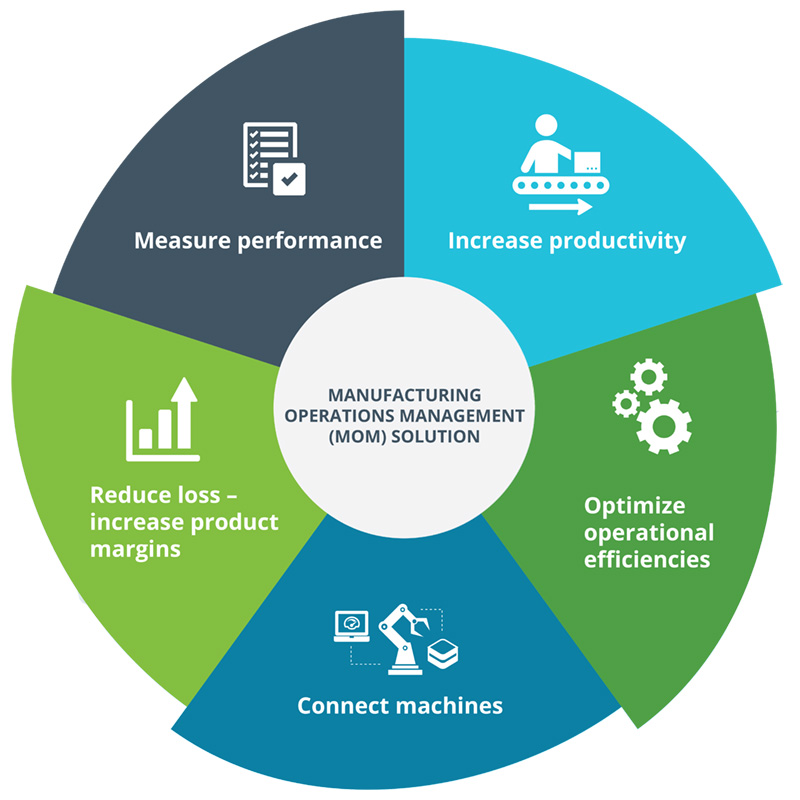 Competitive advantage
Tech and the Internet have transformed the workplace, and competitive manufacturers are embracing the industrial Internet of Things. Continuous improvement and "lean manufacturing" require benchmarking your performance against global standards, and taking the lessons you learn on board. An effective ERP solution can greatly assist with the process of digitizing your business.
The bottom line is that you gain improved accuracy and productivity, reduce downtime and costs, and a world-class business.